13 Workplace Collaboration Tools to Keep Employees Engaged in 2022
— Juliet Edjere
In this article, we'll highlight some productivity tools and strategies that can help boost effective workplace collaboration while working remotely or in the office.
Effective workplace collaboration increases business productivity.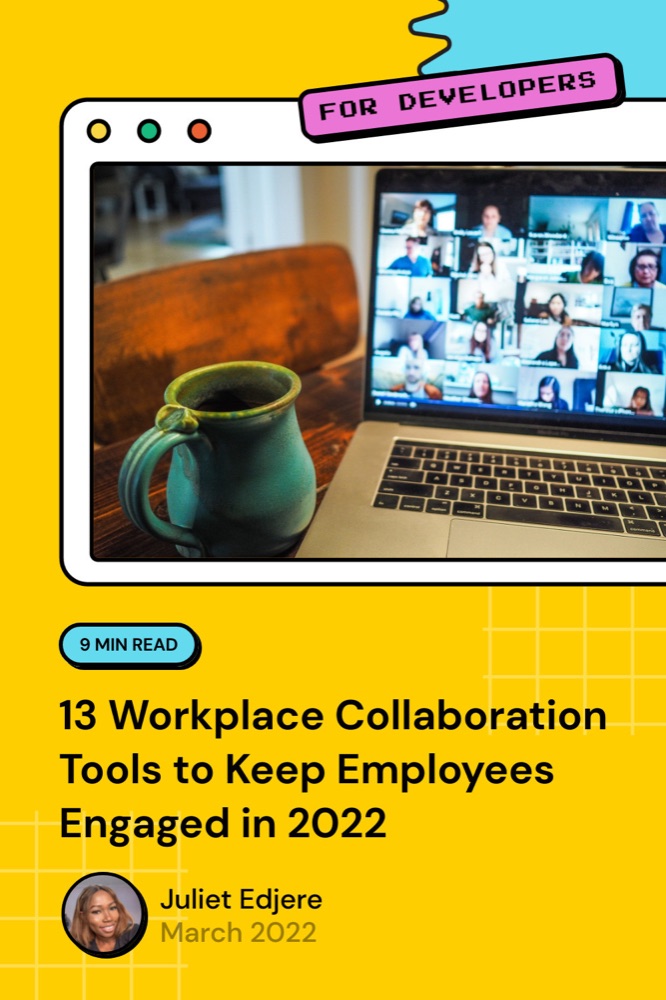 While considering ideas for collaboration in the workplace, it's anticipated that personalities, work structure, expertise, communication styles and skillsets will clash. Teammates working remotely might feel less inclined to be supportive of each others' work when there are fewer measures in place to avoid unproductive meetings, communication gaps and clashing personalities.
Regardless, we have to work together. It is important to create an inclusive environment for promoting collaboration in the workplace. A positive work environment where people can't be afraid to speak up or contribute ideas frames how your team approaches collaboration.
Collaborative planning systems put in place help build trust in a work environment where communication is open and teammates can work both together and on their own.
With the global pandemic, there is an increased need for collaboration tools in a distributed / remote workforce. In this article, we'll highlight some productivity tools and strategies that can help boost effective workplace collaboration while working remotely or in the office.
Let's go!
1. Google Workspace
Google Workspace fuels collaboration and communication for users to connect with teammates, customers and partners.
Google Workspace (formerly G Suite) includes all of the core communication and collaboration tools you already use and love — Gmail, Calendar, Drive, Docs, Sheets, Slides, Meet, Chat, Forms, Sites, Keep, Currents, Apps Script and Cloud Search — to ensure that teammates have access to everything they need in a single, unified place.
With guest access features in Chat and Drive, users can easily create, share content and collaborate with guests outside your organization. Everyone will have access and visibility to the same information. Employees can share their screen on Google Meet so teammates or clients can see and hear what you're working on, while you're pitching a proposal or walking through a document.
2. Notion
Notion is a versatile tool that facilitates productive collaboration and information distribution.
Notion is an all-in-one workspace that boosts flexibility and collaboration among the teams and the whole company within and out of the office.
With Notion, you can take notes, create tasks, track processes, and manage tasks, projects and knowledge within the platform.
Teammates can share a page publicly accessible to anyone or with individual users. You can work collaboratively by granting team members access to individual pages and sub-pages with any Workspace Access level. You can alternatively share individual pages with guests without inviting them to the full workspace.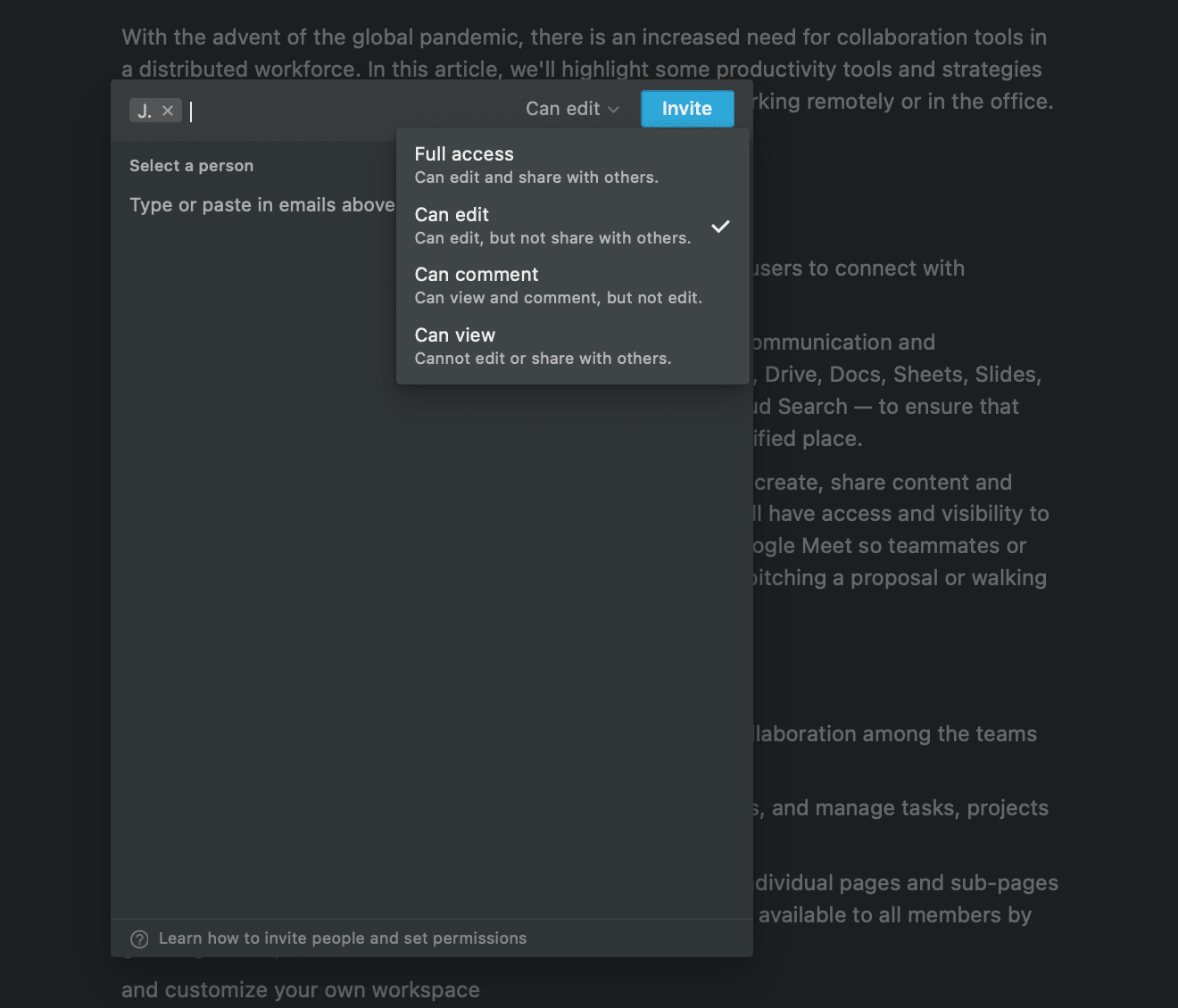 Notion features members' and guests' avatars at the top of each page so that it reveals the user's name, email address, and time of the last visit when you hover over each avatar.
Within comments and the page content, you can make a date reference, mention pages and users to send them a notification. Type @ then search for and select the date, person or page to mention.

Monday.com is a project management and team collaboration tool that facilitates messaging, file sharing and activity tracking with automation.
Teams can plan, manage and implement projects collaboratively within the platform. The visual collaboration tool power teams to meet deadlines and build a transparent work culture to create smarter workflows.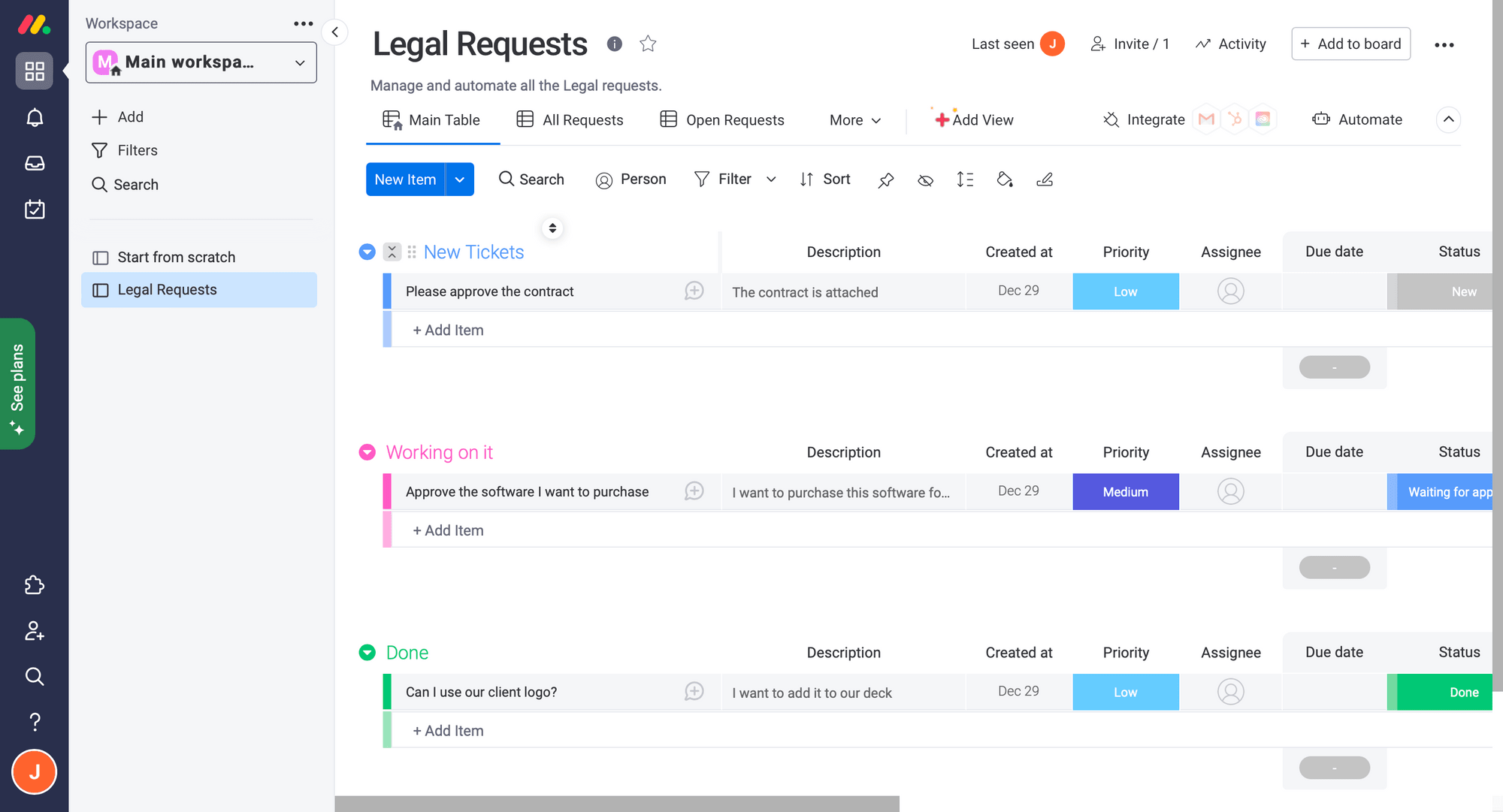 You can keep messages and files in one place, assign tasks and track the progress of any project so that your team remains in sync.
4. Airtable
Airtable is a low-code platform for building collaborative apps. The spreadsheet-database hybrid makes it easy to create and collaborate.
You can invite workspace and base collaborators on Airtable to facilitate intra-team communication and task delegation.
Airtable allows users to customize workflows and collaborate with creator, editor, and commenter permissions. You can also integrate Airtable with Slack so that your team will receive updates in a specified Slack channel whenever changes are made to an Airtable base, specific records in an Airtable base, or specific views in an Airtable base.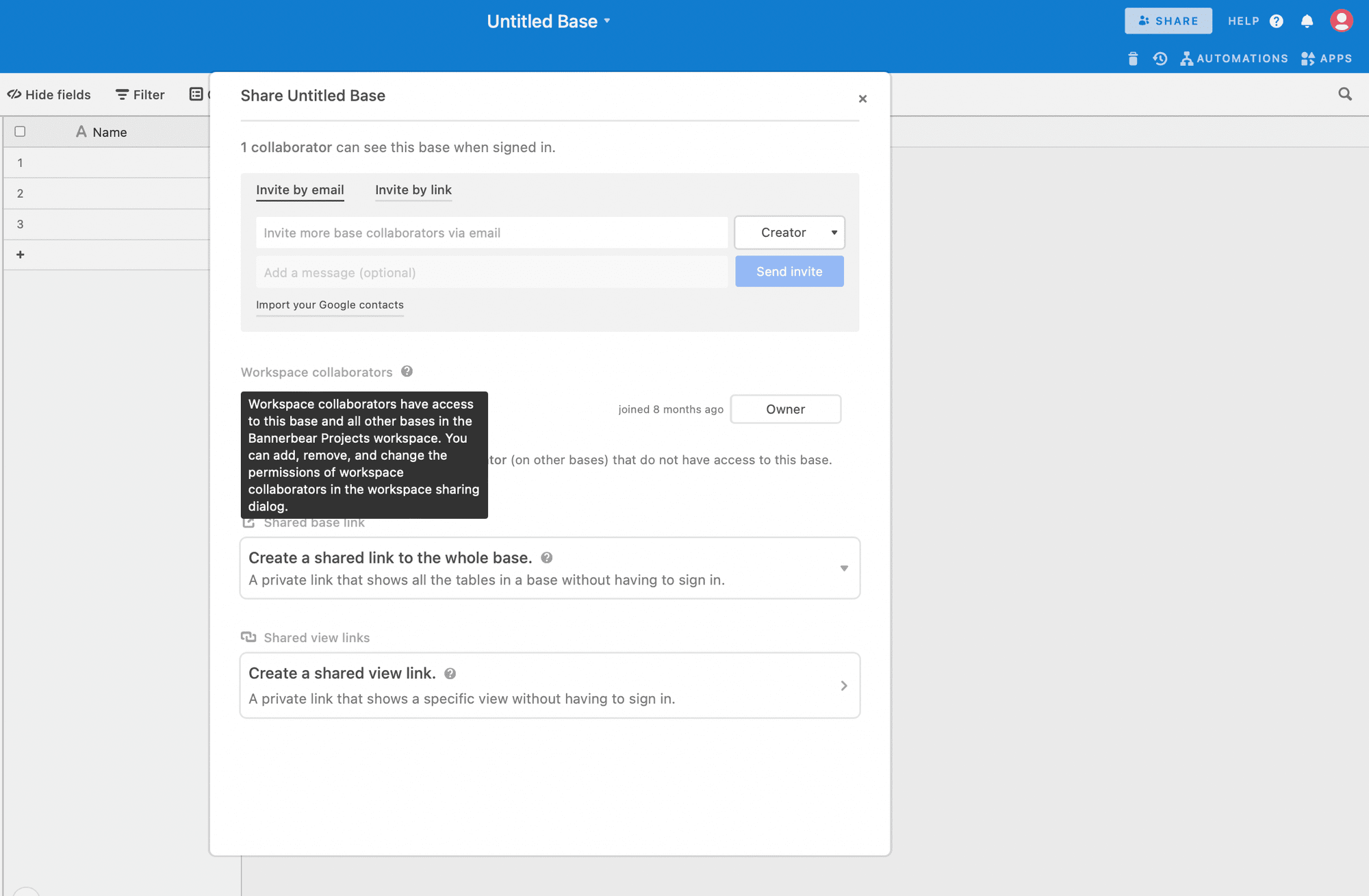 5. Mural
It's estimated up to 65% of the general population are visual thinkers. MURAL enables teams to think and collaborate visually to solve problems faster with an easy-to-use digital canvas.
Visual collaboration makes it easy to show all the moving parts of a project and helps team members better understand how their contributions make an impact.
Remote employees can collaborate as if they're in the same room. Collaborators can add sticky notes, icons, shapes, connectors, and comments, to the online whiteboard so that everyone can participate.
6. Slack
Slack is the most used platform for workplace chats and workplace communications.
Slack is a workplace communication tool that brings people together to work as one unified team. Teamwork is boosted via instant messaging in direct chats or specific threads called channels to help save time, collaborate and connect people to the information they need.

By allowing teams to connect via the instant messaging app, Slack transforms the way organizations communicate instantly and share files.
7. Zoom
Collaboration is an indispensable part of how businesses operate.
Without a doubt, Zoom is the most popular collaboration platform for employees to reach out to teams or departments while working from home.
The platform brings people together with teammates they previously would not have thought to coordinate with while working remotely. Whether it's a regular weekly virtual team meeting, ad-hoc project update or running remote interviews, the video conferencing tool is a good option to connect and collaborate virtually.
Zoom's collaborative features, like annotating your screen share, and its integrations allow for seamless collaboration between users'.
8. Basecamp
Basecamp is an online collaboration app for collaborative projects that span multiple departments. Its built-in collaboration tools, like group chat, message boards, and team schedules make it a great real-time collaboration tool that helps teams stay in touch.
When working with others on a project, there can be a lot of activities to track at work, across schedules, tasks, deadlines, files, discussions, and announcements. People can track progress, manage their work together, create projects, manage tasks and communicate with one another.
Basecamp provides a better way to work and communicate, for a more productive and better-organized work environment. Projects can be organized to reflect how different departments will work together on a segment of the project. You can sync Basecamp to-do lists with Jira, Zendesk, HubSpot, Trello, Asana, Wrike, GitHub, GitLab, or Bitbucket.
9. Asana
What's the best way to make sure the right work gets done at the right time? Breaking down plans into steps with boards, timelines and lists to allow teammates to see and track their everyday work.
Asana is a project management tool, designed around Kanban boards, and primarily used for planning and delivering projects.
You can create, assign and track the progress of tasks to teammates, create automation rules, define dependencies and integrate with your favourite apps on Asana. More time is spent on actually getting work done and sharing related updates on the status of work happening.
10. Trello
Trello is a simple, customizable kanban board to track team projects, highlight tasks, show who they are assigned to, and detail progress towards completion.
You can onboard your team members, set permissions, and start collaborating within Trello Workspaces. With Workspace views, you can visualize cards across boards within a Workspace, and sort and filter them by various criteria. Each card can contain a broad range of information, including a text description, file attachments, automation, and comments.
The collaborative work management app features commenting and pinging features to create organic social interactions, and keep conversations within the platform.
11. Coda
Coda is an online collaboration platform that combines customizable and collaborative documents, apps and spreadsheets, so all your data is dynamically integrated into one centralized platform.
Coda is very similar to Notion. You can invite team members to become Viewers, Editors or Doc Makers in your workspace. The comprehensive solution allows you to streamline your operations and improve your online workspace.
Coda combines Google Docs and Trello features in one place. Collaborators can write and add interactive blocks such as tables and spreadsheets with formulas.
12. Miro
Miro (formerly RealtimeBoard) is a visual collaborative whiteboard platform for cross-functional teams to work effectively together. Distributed teams can brainstorm with digital sticky notes, and plan and manage agile workflows within the platform.
Miro is very similar to Mural. Like other collaborative tools, it's easy to participate in comment discussions and turn on notifications to get alerts in the email, browser, or Slack, when important comments and mentions are made.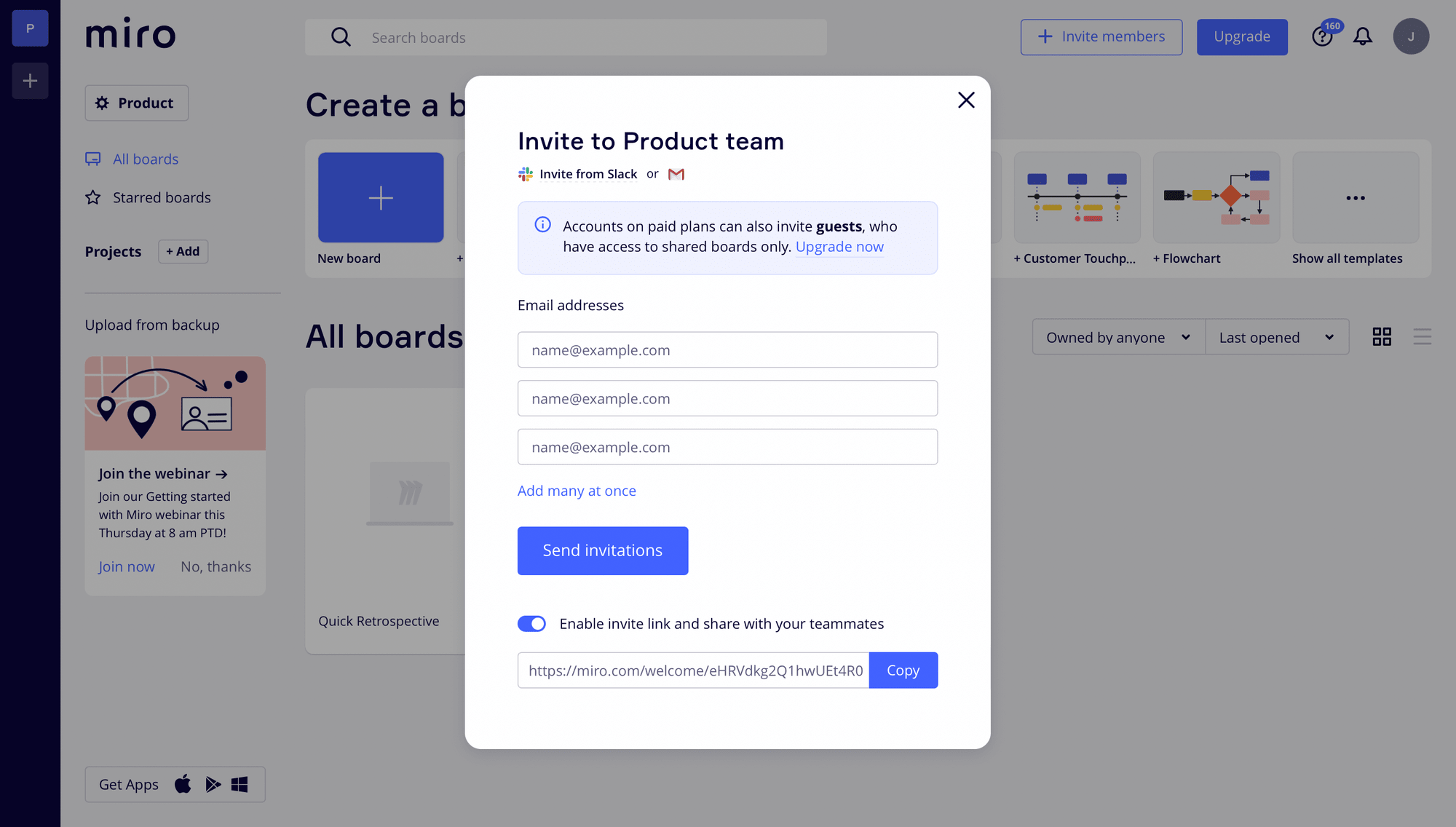 You can invite collaborators via email addresses and send invitations, with the Invite members button in the upper right corner of the dashboard or use the Share button within the board.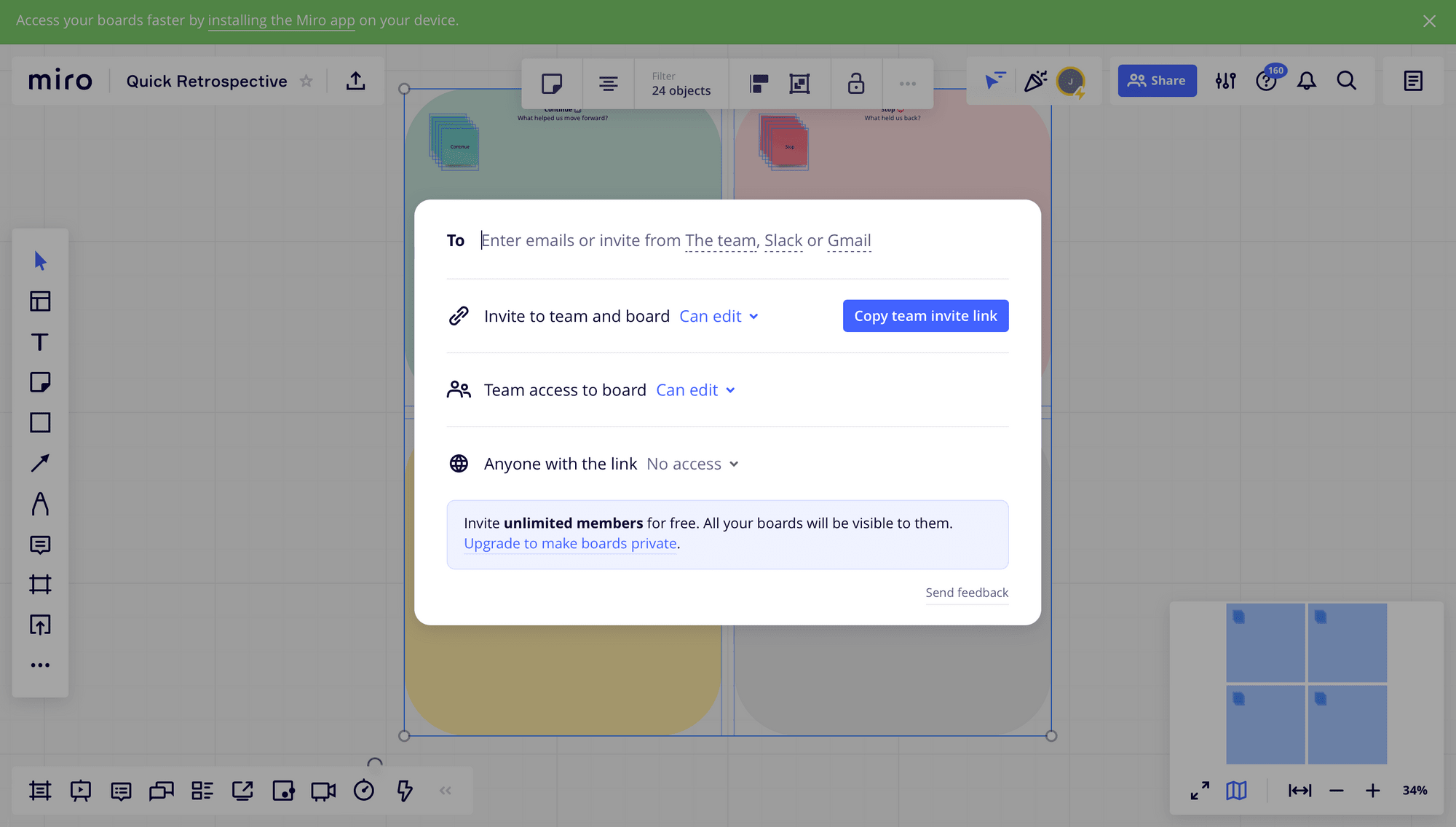 13. Flock
Flock is a communication and online collaboration tool with team messaging and project management features.
Employees can tag colleagues in comments and to-do lists within the messaging app, upload documents, images and videos, and set reminders and due dates.
Although Flock is similar to Slack, Slack has more features with a better interface.
Key Takeaways
As many companies implement a mix of remote and in-person work environments, most teams rely on team collaboration software to get their work done. Teammates need to collaborate, despite the possibility of conflict arising, to produce new ideas and innovative solutions.
We've highlighted this list of strategies and tools you can implement as you dive into ideas for collaboration, transparency, efficiency, productivity and flexibility in the workplace.
This article was originally published on Bannerbear.com on March 10, 2022. Written by: Juliet Edjere
---
ABOUT ME
I'm Juliet 'Hiri' Edjere, a no-code expert focused on design, business development, and building scalable solutions with minimal coding knowledge.
I document all things product stories, MVP validation, and how designs, data, and market trends connect to one another.
In our world where innovation knows no boundaries, and creativity reigns supreme, no-code is a game-changer in today's tech landscape. Whether you're a developer looking to expand your skill set or a beginner curious about creating without writing a single line of code, you will learn from practical examples, and explore the possibilities of no-code technology. Together, we'll navigate the tools, platforms, and strategies – one blog post at a time!