7 Trends in No-Code and Why You Should Care in 2022
— Juliet Edjere
The future of low-code/no-code tools will make processes easier than ever before.
The no-code movement rests on the central idea that technology should empower and facilitate the building of products that people can use on a regular basis. No-code development involves the use of a graphical user interface rather than programming languages to create software.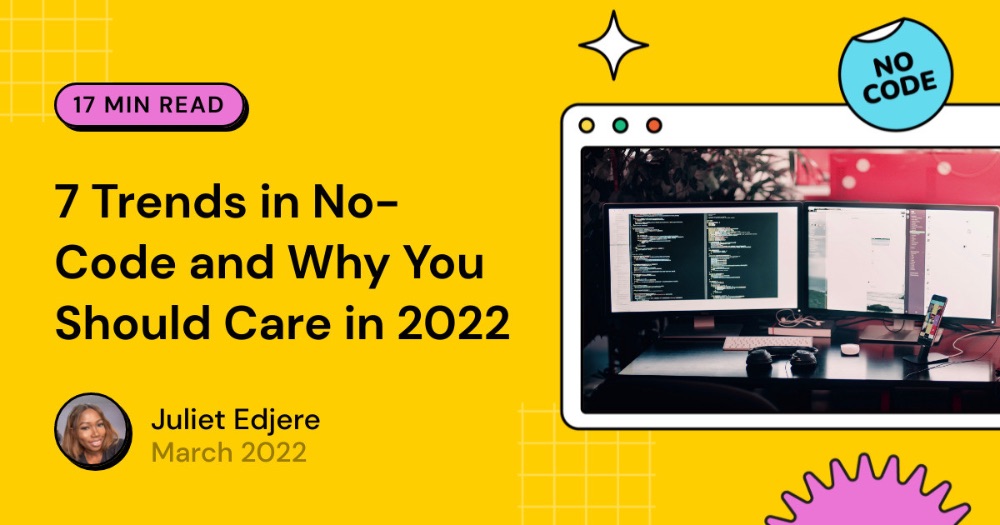 With their growing prominence, non-programmers, developers and business users can build secure and user-friendly custom tools through GUI (Graphic User Interfaces), without the need to write code. This means more companies are likely to turn to no-code tools for their processes and scale a fast-growing business.
We are starting to see exciting trends and big announcements in low-code and no-code development that lead us to believe they are here to stay.
1. Increased popularity of search queries over time
In case you have not noticed, the no-code pace has increased over the years, ushering us into a no-code revolution.
The dramatic growth of the low-code and no-code development platform markets is not necessarily a new trend - but how big and how fast is it growing?
Today's no-code and low-code tools allow businesses to build and launch custom solutions quickly. These tools are gaining momentum among programmers and non-programmers to help make ideas come to life quickly.
Google searches for the term "no-code" has increased significantly over the past 5 years.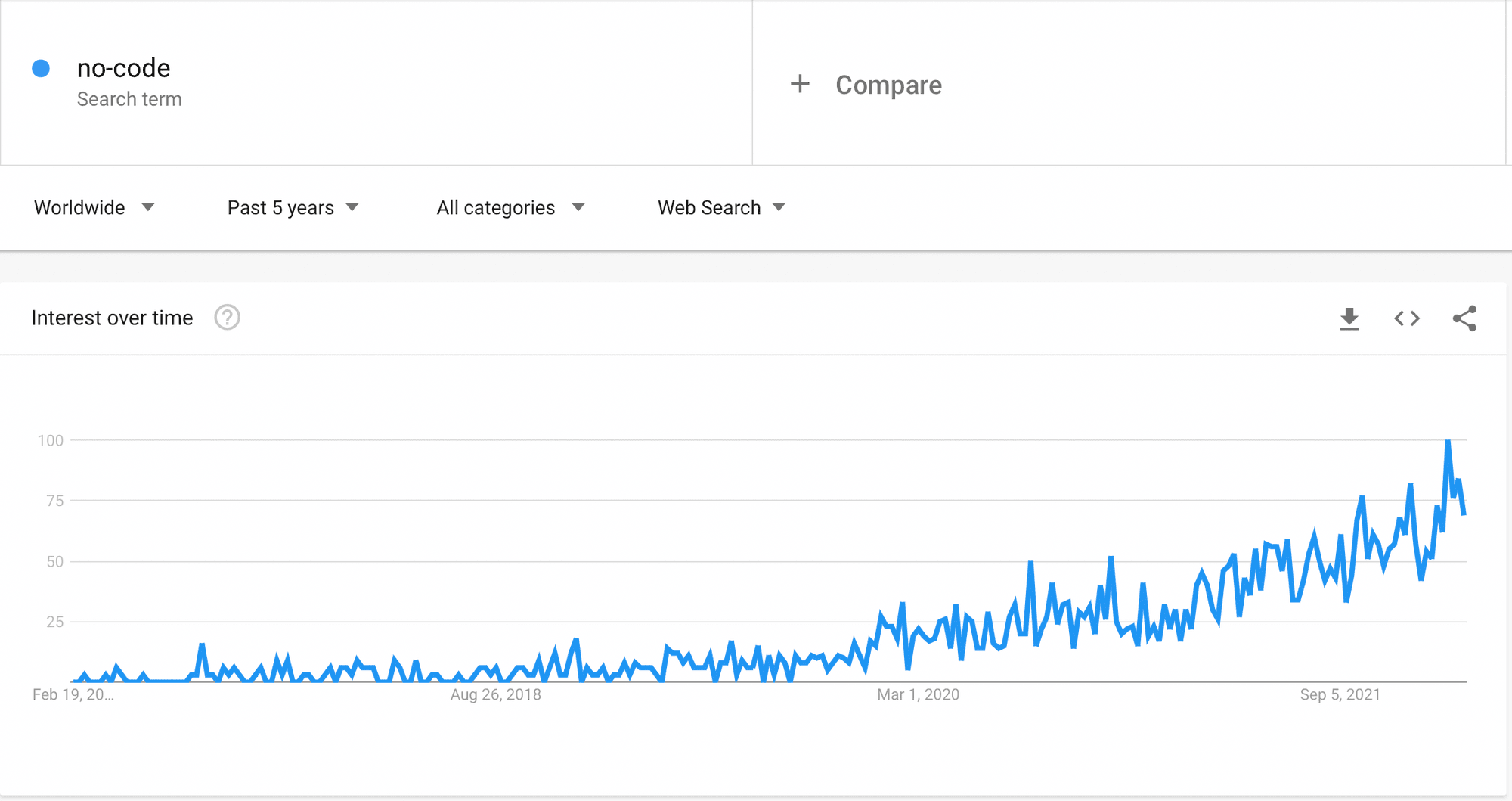 Interest in 'no-code' over the past 5 years
While the no-code movement is new, the recent explosion in the industry is a direct result of decades of hard work and development.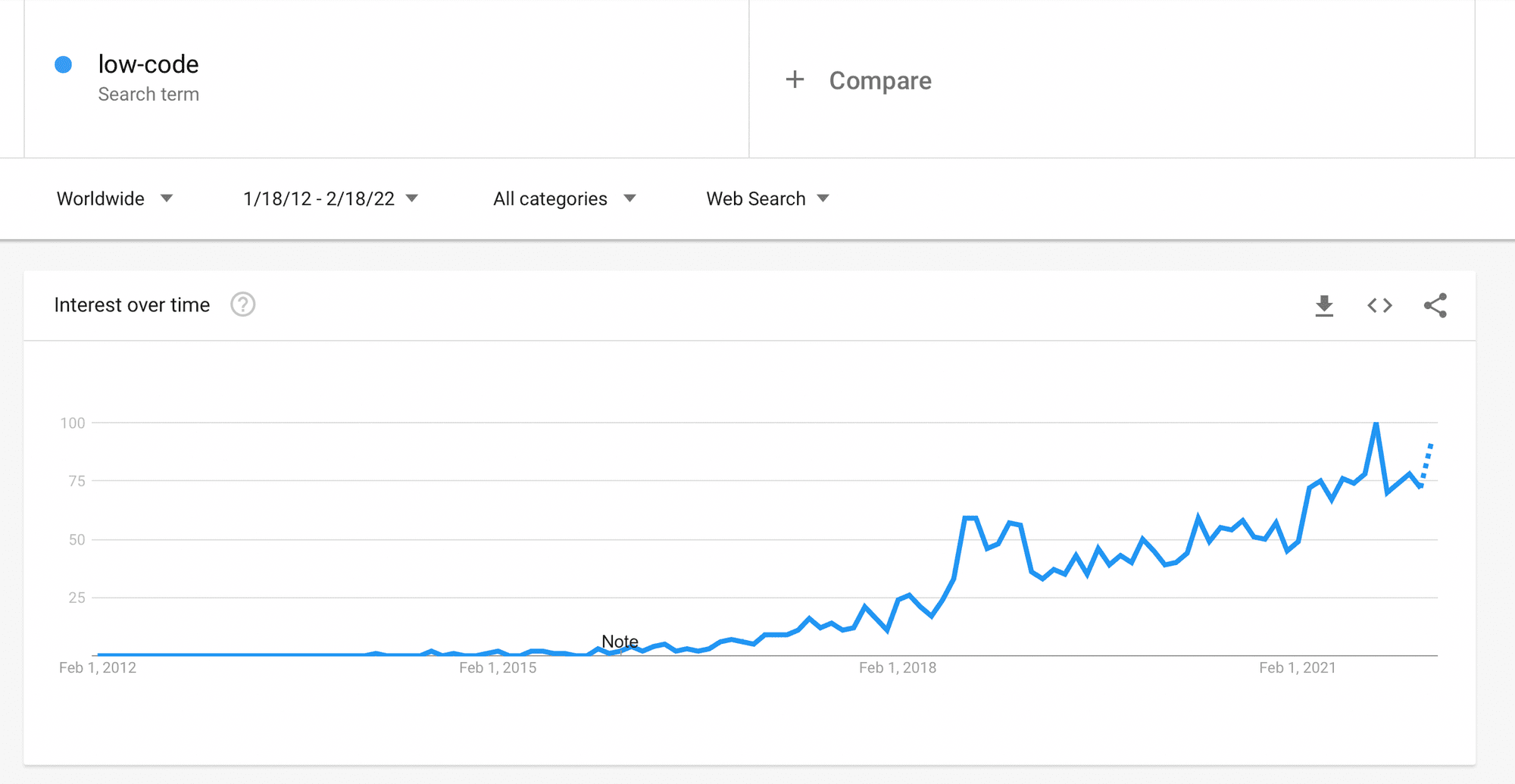 Interest in 'low-code' over the past 10 years
After years of evolution, no-code platforms now make it easy for builders to create a variety of technology-powered products. Companies embrace digital transformation without cutting into the bottom line.
With no-code platforms, application developers can develop applications in three months or less in comparison to traditional development which can take months or even years to complete.
Rather than requiring software developers to write code, low-code platforms allow them to produce applications visually, expediting their development and making it easier for business experts to participate in solution delivery.
2. Less reliance on the IT department
Over the past decade, 'citizen developers' have been on the rise. Will 2022 mark the year they finally step up and gain control over application development? It seems likely.
In this sense, citizen developers are business users without any coding experience who build applications using IT-approved technology. These users create new or change existing business applications without requiring IT involvement.
There is a rise of developers embracing low-code and no-code technologies as they seek new tools to create faster and get work done quickly. While low-code platforms still require coding skills, they allow developers to use existing code components to speed up software development.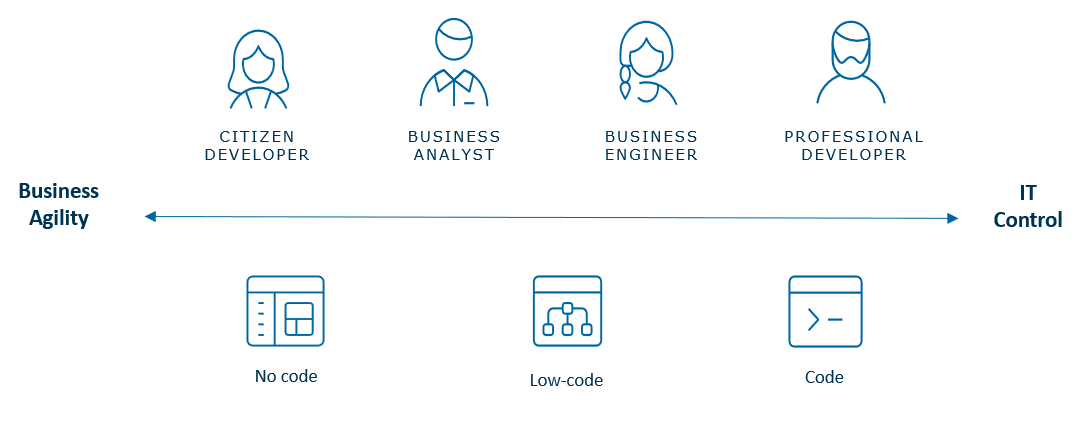 Citizen developers and Low-code platforms
Thanks to low-code and no-code technologies, it appears more achievable than ever before to develop software using citizen developers. Nearly 60% of all apps are built outside of the IT department.
"40% of low-code developers are full-time developers, whereas 33% are part-time developers. The strong penetration of low-code application development tools among full-time developers illustrates how the demographics of developers have already started to change such that developers are no longer defined by their proficiency in coding but are rather defined by their ability to build digital solutions" - said Arnal Dayaratna, research director, Software Development at IDC
There is no doubt that adopting no-code technologies will democratize the build process but it cannot replace software developers entirely. Citizens developers will, however, play a prominent role in this acceleration. In fact, the shift has already begun, with over 60% of all custom applications now being built outside the IT department without needing to know code.
According to Gartner, 65% of application development will be low code by 2024. We project improved collaboration in an environment that is increasingly fragmented.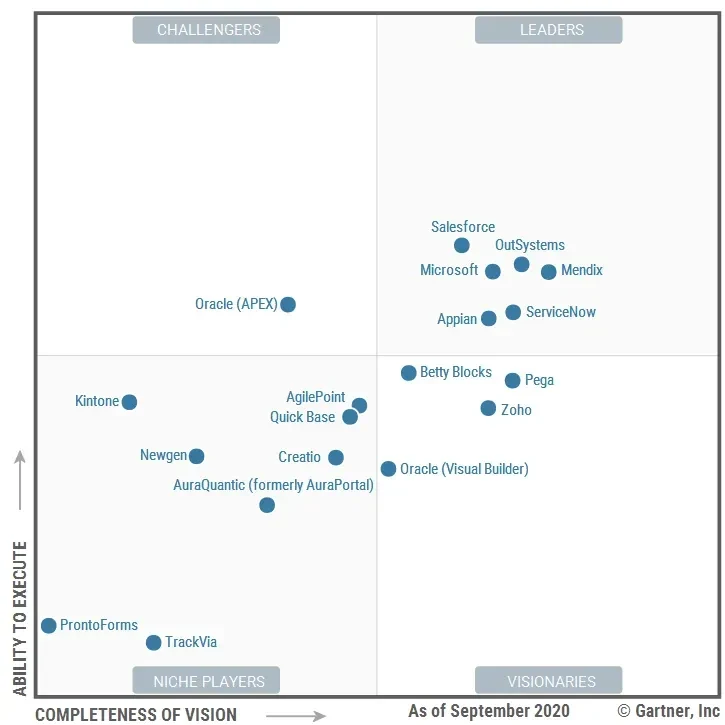 Gartner's Magic Quadrant for enterprise low-code platforms
We're also seeing the rise of no-code and low-code solutions in the highly technical space of machine learning. Amazon announced the availability of Amazon SageMaker Canvas, a new visual, no code capability that allows business analysts to build ML models and generate accurate predictions without writing code or requiring ML expertise.
No-code will ensure that developers can focus on more complex projects. For example, a small business can easily modify their online product catalogues without having to rely on IT. Thus, they can also lower their total costs of ownership.
With the right no-code tool, team members can build cross-platform, reliable, agile business processes faster without specific knowledge of the code required for each tool.
3. More automation functionalities and features
Automation is now the norm for businesses so that employees can focus on more rewarding work rather than tedious tasks. Automation tools reduce the amount of work everyone has to do and automate the entire process.
With Application Program Interfaces (APIs), you can connect web services in a unique way through services like IFTTT, Integromat, Automate.io and Zapier.
One of the most widely used workflow-automation and integration tools is Zapier; it connects more web apps (over 3,000 which is more than Integromat does — about 1,000) than any other provider, and more scenarios and variations are added all the time.
We're seeing more product updates with Zapier - AI by Zapier, Sub-Zap by Zapier, Notion x Zapier integration, improved Zapier Chrome extension, and Transfer by Zapier.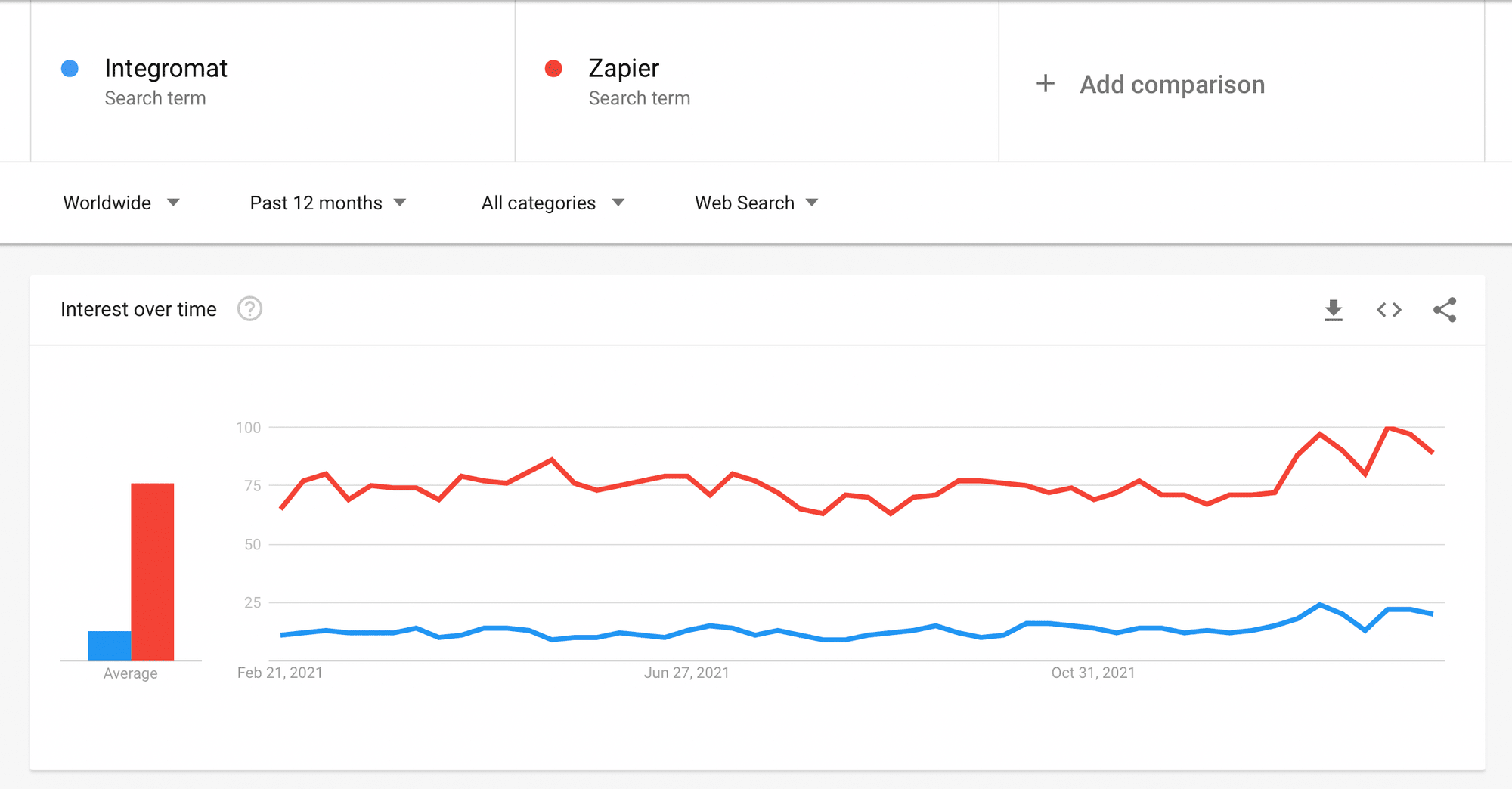 Google Trends - Zapier vs Integromat
A major change within the process automation space is Integromat evolves to Make, a new brand and flagship platform with new features and capabilities. Celonis acquired Integromat in 2020 for over $100 million. Now with the launch of Make, Integromat becomes a legacy product offering. While Integromat will continue operating and existing customers will not lose access, the team will discontinue support in 2023.
With automation, you don't need to take on manual tasks. You can perform specific tasks and automate workflows themselves with minimal manual effort. You can do almost anything after you set up your trigger and action between apps to refresh at regular intervals.
Bannerbear is a great example. Bannerbear allows you to easily auto-generate social media visuals, e-commerce banners, dynamic email images and more with our API and integrations.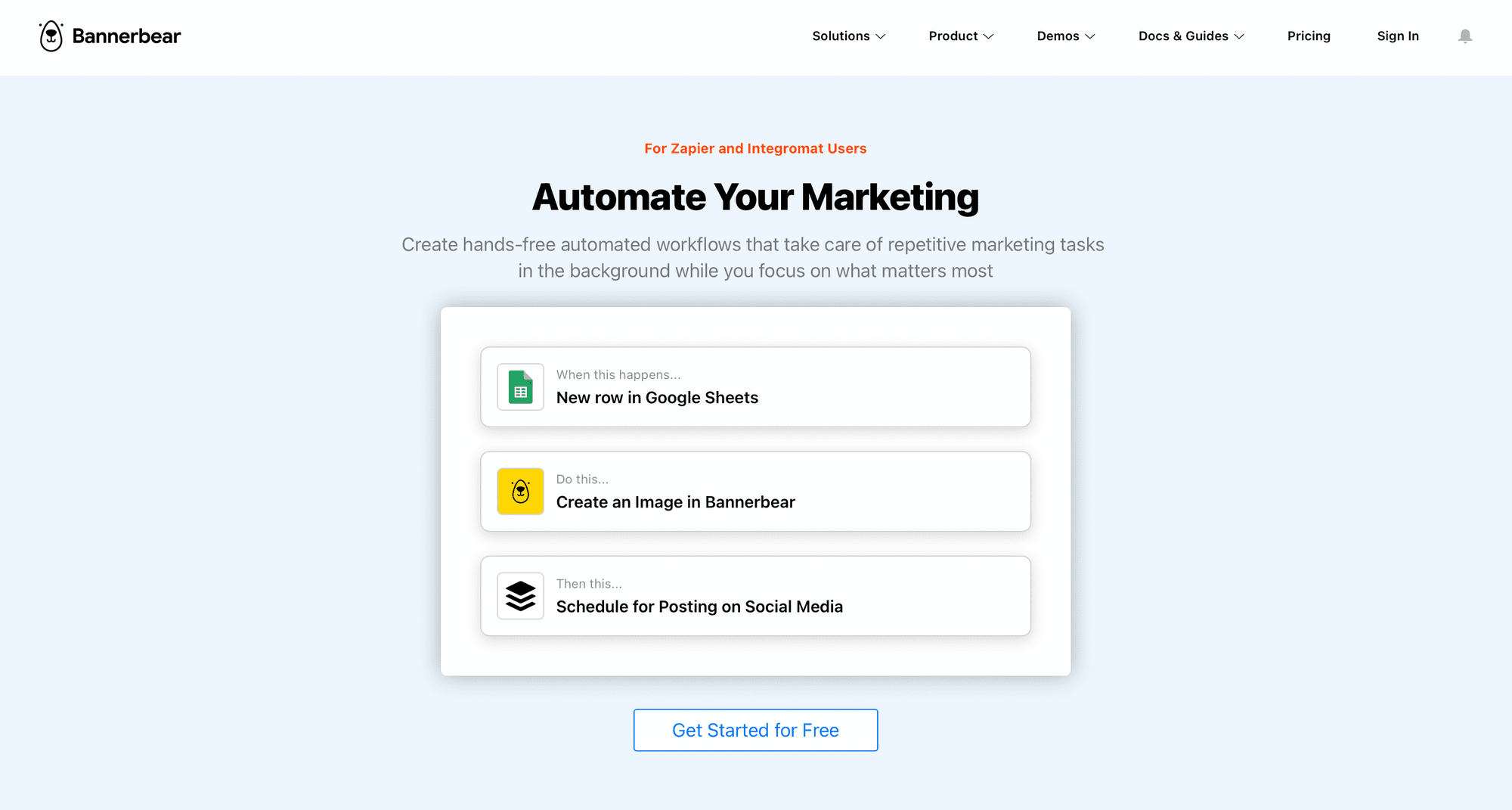 There's more possiblities with no-code functionalities and features being presented. We put together a list of 20 widely used tools no-code tools.
Websites : Most no-code web development platforms have an intuitive drag-and-drop user interface to bring your website from idea to launch quickly without writing a single line of code. With its fully customizable platform, you can turn your imagination into a high-quality working product — from simple landing pages to SaaS websites to e-commerce stores.
Mobile apps : With the drag-and-drop functionality presented by no-code tools, you can easily design and program beautiful apps with powerful functionality and launch them to the Google Play Store and Apple's App Store for other people to download and use.
Productivity : We've stepped away from non-collaborative excel files to no-code project management tools. You can integrate with no-code platforms to get your team to work collaboratively in the same space, create tasks, create roadmaps, draft projects, track processes.
4. Better product education for beginners
With the increasing popularity of no-code communities and no-code learning platforms, it is possible for anyone to build a prototype or even a full version all by themselves in a few days, and then test and sell the product. Tutorials and learning courses of a simpler and more accessible ways to bring ideas to life.
Approximately 70 percent of low-code users with no programming experience learn it within one month or less. 72% of no-code developers create applications in less than three months, reflecting the low barrier to entry.
Skills gaps and changing trends are at play in this pandemic, making education essential for the widespread adoption and use of no-code. Within the no-code vendor community, the skill gap and need to reskill have already been identified.
No-code development platforms, along with the many tutorials currently available, offer anyone the chance to create and launch web applications, where once only programmers could do it. Now, not having a programming background is not strictly necessary.
🐻 If you are just starting out? We have previously compiled a list of 20 widely used tools no-code tools you can start with in 2022.
Bubble's survey of the no-code community called the No-Code Census
The no-code movement has evolved into an ecosystem of partners, which includes educators, agencies, evangelists, thought leaders, tool creators, and entrepreneurs helping each other build the next evolution of technology.
Zapier, a well-known no-code automation tool, purchased Makerpad, a no-code education service and community. "Ultimately," Makerpad founder Ben Tossell wrote, "Makerpad's vision is to educate as many people as possible on the possibilities of building without writing code."
The acquisition of Makerpad by Zapier confirms the need to adapt to rapidly changing conditions within the remote working environment. There is a rise of initiatives like no-code bootcamps, Nocode.tech's NoCode University and Makerpad's cohort-based No-Code Fundamentals course, and communities No Code HQ, Nu Code, No Code Makers, NoCodeDevs.
The growing number of learning communities offering courses in the no-code space will provide a broader spread of information for non-technical users to get started.
5. Top players driving growth in the industry
One of the most exciting trends in no-code space at the moment is the growing capabilities of innovative no-code vendors.
🐻 With so many no-code platforms to choose from out there, we put together a list of 20 widely used tools no-code tools.
According to the No-Code Census 2020 Report, the Top Tools ranked highest in their category: Bubble (76%), Airtable (47%), Zapier (57%), Shopify(49%) and Wordpress (57%)
The popularity of no-code platforms like Bubble and Webflow is growing rapidly. Bubble is the leading and most widely used no-code development platform for building powerful web apps without using any code. Bubble reaped over half a million users just in 2020.
Notable runner-up tools include:
• Core Product: Webflow (20%), Adalo (10%), Glide (10%)
• Database and Workflow Automation: Integromat (24%), Parabola (10%)
• E-Commerce: WooCommerce (41%)
• Front-End: Webflow (31%) Wix (25%), Squarespace (22%), Carrd (14%)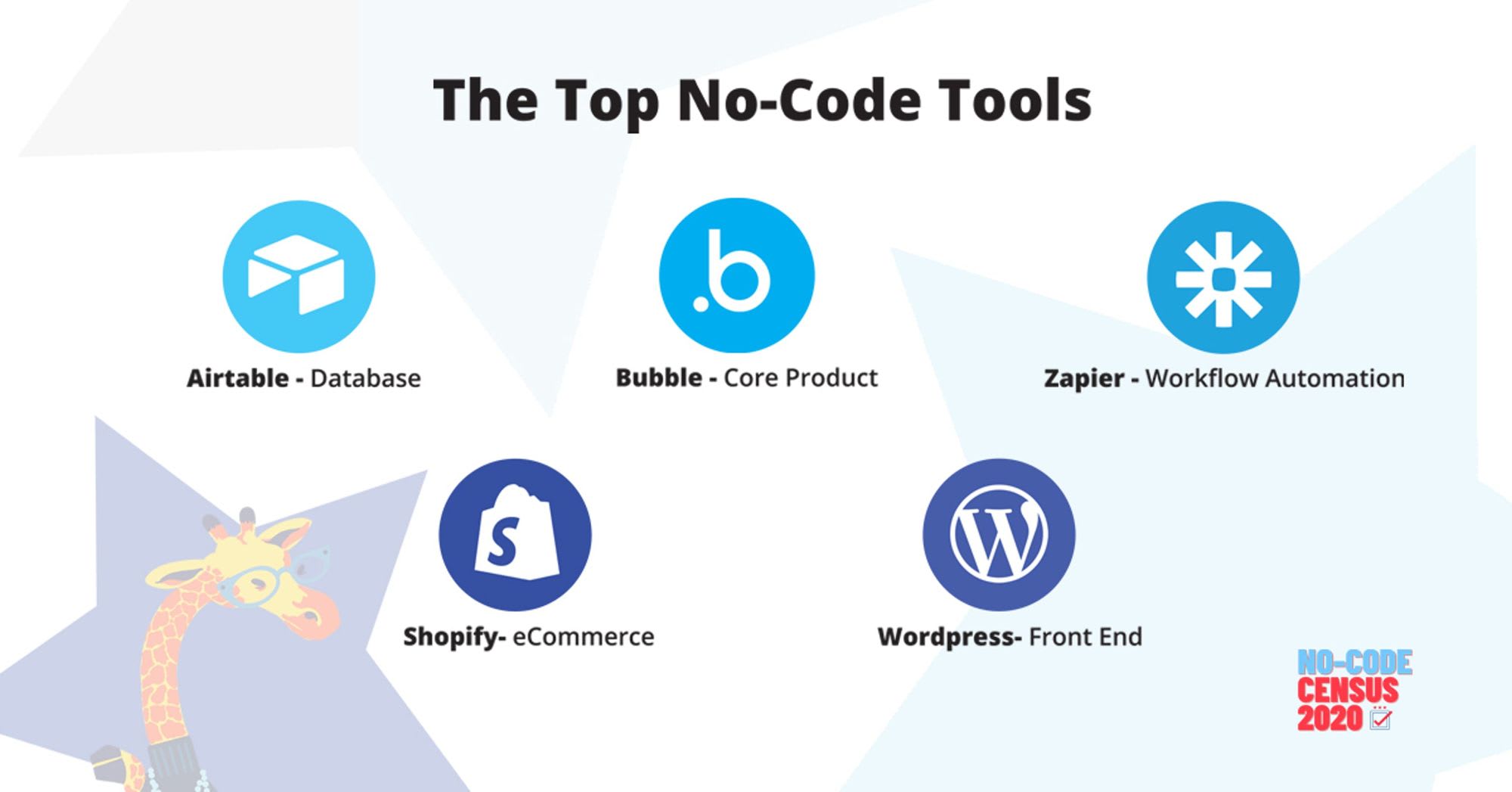 A recent interesting update is theAirtable Interface Designer. Interface Designer is a beta feature that lets teams build visual and interactive interfaces using the data already in their base. You can design a visual, streamlined interface so collaborators are only shown the most relevant information when making a decision.
Users can create fully customizable web applications and workflows with powerful point-and-click interfaces, ranging from simple prototypes, MVP to complex marketplaces, SaaS products, and other projects.
6. New and existing solutions continue to attract funding
How much funding do startups that use no-code raise? Those days when startups had to wait months for development teams to scope, specify, build, and test products at great expense are long gone.
With the help of tools such as Typeform, Airtable, Webflow, Salesforce, Calendly, Zapier and Retool, BloomTech (formerly Lambda School) built their first MVP that serves over 3,000 students. BloomTech raised $4 million in seed funds to reshape the virtual education industry on the back of the Income Share Agreements (ISAs) model.
The amount of venture capital funds investing in the no-code/low-code market has increased recently:
Zenity, announced a $5 million seed funding round led by Vertex Ventures and UpWest "to seamlessly govern their low-code/no-code applications and prevent unintentional data leaks, disturbance to business continuity, compliance risks or malicious breaches."
Zapier acquired Makerpad in March 2021. Makerpad helps entrepreneurs and small businesses to build no-code tools that save time and increase efficiency. The company generated over $200K in revenue in less than a year.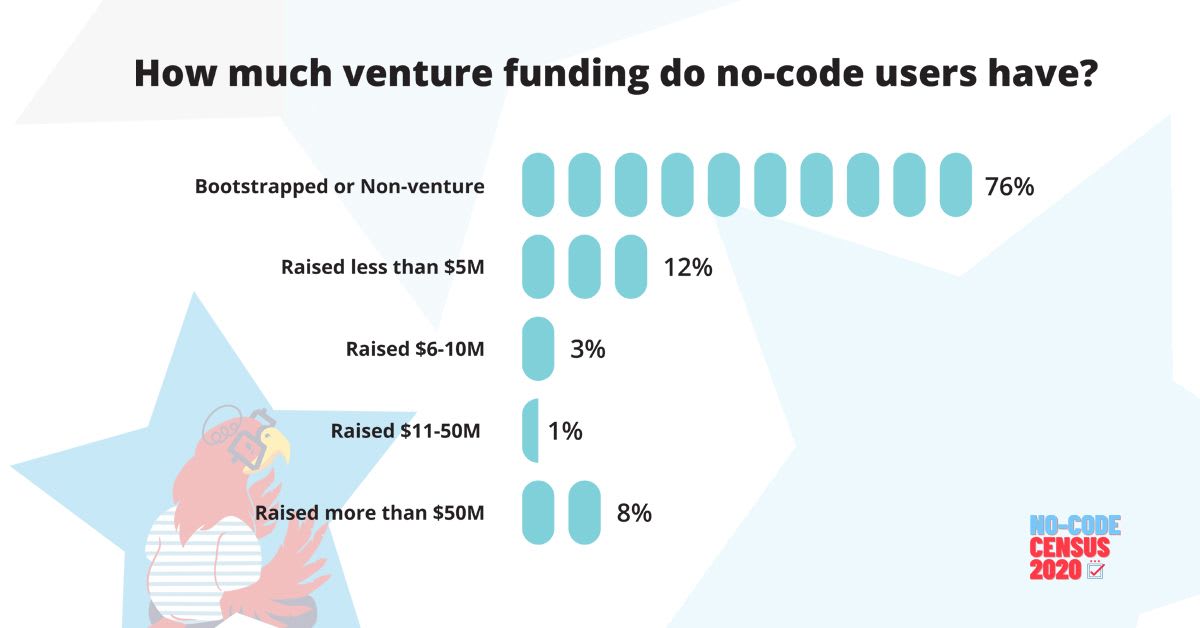 No-Code Census 2020
As today's digital world becomes increasingly competitive, the difference between successful startups and those that fail comes down to how quickly and cost-effectively they can get their product to market and iterate on customer feedback.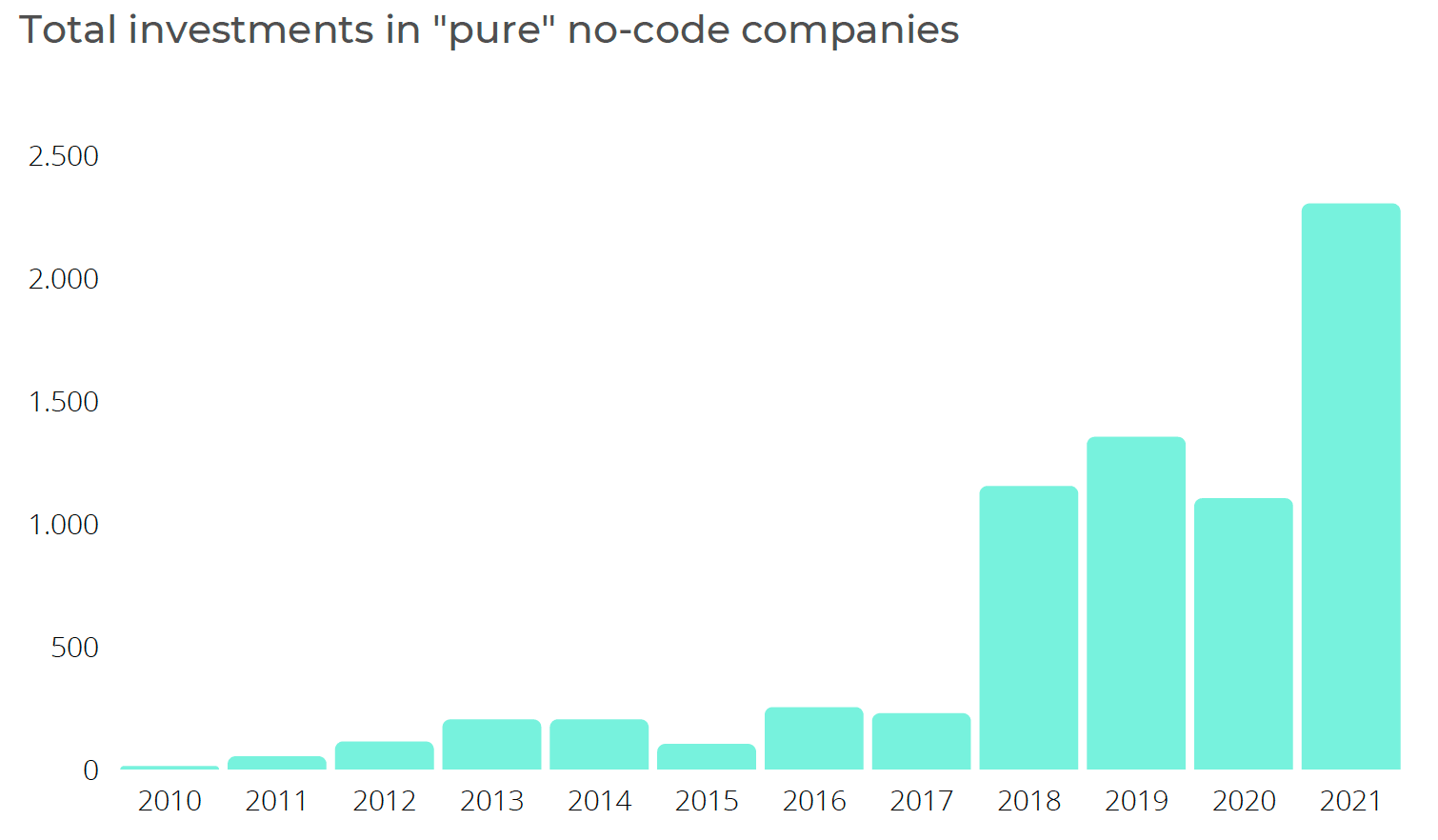 Source: https://www.spreadsheetweb.com/investments-in-no-code-low-code-how-much-money-did-they-raise/
55 percent of high growth organizations focus on innovation and customer engagement through towards low-code integration to increase speed-to-market. Eventually, we're likely to see whole companies built on no-code products.
People looking to use technology for solving local business problems, but without a large enough market to attract venture capitalists or engineers to build a code-based solution, will benefit significantly from this. This not only democratizes who can build tech companies, but opens up more opportunities for freelancers, smaller companies and independent entrepreneurs.
7. Continued growth projected over the next decade
The no-code movement will likely continue to grow over the next decade thanks to the new possibilities these tools offer. The global low-code/no-code market size was valued at USD 11.45 billion in 2019 and is expected to grow at a CAGR of 22.7% from 2020 to 2027.
The average forecasted market size is expected to grow from US$ 16.1 billion in 2021 to US$ 84.8 billion by 2027, at a compound annual growth rate (CAGR) of 31.9 %.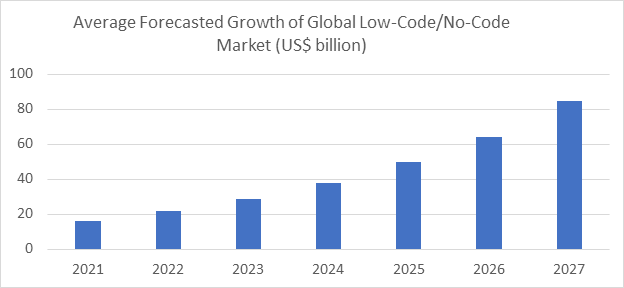 Source: Spreadsheet Web
Digital transformation in all industries will continue to accelerate as a result of the pandemic. More integration, automation, and innovation will become the norm in business.
Businesses that succeed in the future will be those that embrace new solutions rather than sticking with the methods of the past or even the methods of now.
Final words: What does the future hold?
The future is looking great! The ecosystem of no-code solutions is rapidly expanding, with more custom solutions available than ever before to address niche issues and automate specific processes.
It has been an exciting year for people developing their ideas and building up their businesses using no-code tools. These ideas will soon turn into business plans and side hustle businesses. The future of no-code tools will make launching a company easier than ever before.
Using no-code will help companies gain a competitive edge in the tech marketplace. Freelancers and independent entrepreneurs can use these tools to define a product and build 'micro-SaaS' products such as marketplaces, e-learning platforms, and subscription communities that generate revenue.
While the rise of no-code has accelerated at a rapid pace, it does have some limitations. Even if organizations move to no-code/low-code, they still need to consider good architecture and best practices to keep their eyes on how their solutions will be implemented.
🐻 This post will be updated periodically, so Tweet your thoughts to join the conversation on Twitter! Stay connected to the Bannerbear blog to follow along and get inspiration to automate marketing efforts.
This article was originally published on Bannerbear.com on March 24, 2022. Written by: Juliet Edjere
---
ABOUT ME
I'm Juliet 'Hiri' Edjere, a no-code expert focused on design, business development, and building scalable solutions with minimal coding knowledge.
I document all things product stories, MVP validation, and how designs, data, and market trends connect to one another.
In our world where innovation knows no boundaries, and creativity reigns supreme, no-code is a game-changer in today's tech landscape. Whether you're a developer looking to expand your skill set or a beginner curious about creating without writing a single line of code, you will learn from practical examples, and explore the possibilities of no-code technology. Together, we'll navigate the tools, platforms, and strategies – one blog post at a time!